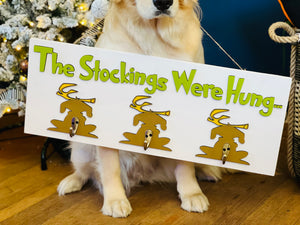 Everyone loves the Mean One version of the stocking hanger last year we just HAD to add an option for all the pet stocking featuring Max. ❤️ Each piece is made to order. Make sure to select the correct number of hooks that fits your family from the drop down menu. Hooks do NOT come attached to the sign during shipping. Holes are pre drilled to make it easier assembly. This is to assure that it arrives in good condition and not damaged. 

size measurements per each number of hooks needed. 
2 hooks and 3 hooks 9x24
4 hooks 9x30
5 hooks and 6 hooks 9x36
7 hooks and 8 hooks 9x48
9 hooks 9x52


Slight variations may occur due to these being hand painted and made of wood 

All staging & designs are owned by MommaCrafts413. ©MommaCrafts413 2013-2020. All rights reserved. Do not copy.